Provincial Government Funding
Minister of Technology Visit
Minister of Technology Visit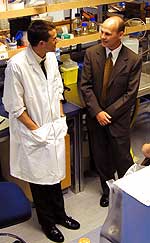 Vancouver, BC, Canada - Provincial government funding of $4.75 million for the Genome Sequence Centre at the BC Cancer Agency will help build a genomics industry in B.C. that will support research into new treatments and cures for cancer and other genetic diseases, Technology Minister Graeme Bowbrick announced today.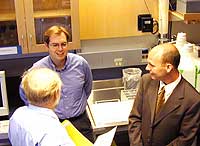 "We are building a world-class genome research cluster so B.C. researchers have the latest knowledge and tools to explore how genes influence the onset of disease and to support the discovery of preventions and cures," said Bowbrick. "Health care is a priority, and this government is committed to improving the health of British Columbians at both the treatment level and the research level where treatments of the future are discovered."
"It's [GSC] attracting the best and the brightest - a clear case of reverse brain drain."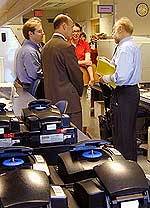 In June, the provincial government announced $13.5 million to expand medical research and training at the University of British Columbia, the Vancouver Hospital and Health Sciences Centre and the BC Cancer Agency. The added funding of $4.75 million to the Genome Sequence Centre will help scientists to continue work to help advance research at other facilities in B.C. and elsewhere.
"B.C.'s Genome Sequence Centre is headed by a Nobel Prize winner, and has other pre-eminent researchers on staff," said Bowbrick. "The Centre offers internationally recognized opportunities for B.C.-trained researchers and specialists so our best people no longer have to leave the province to work at the top of their profession.
"It's attracting the best and the brightest - a clear case of reverse brain drain."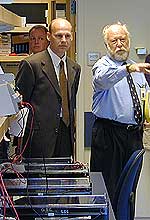 Led by Nobel laureate Dr. Michael Smith, researchers at the Centre are studying gene sequencing, conducting data collection and comparison, and analysing the functions of genes and proteins to develop new medical treatments and therapies. Researchers are working on international projects, including the Human Genome Project, and in collaboration with U.S. National Institutes of Health, and the Genome Sequence Center at Washington University in St. Louis to sequence and analyse specific human DNA.
"We're excited by the work we're doing, and the government's support is invaluable," said Smith. "We've been fortunate to attract some top-notch researchers to the Centre. This funding will enable us to continue our work to unravel the causes of diseases that affect us all, and to attract the very best to our program of genome sequence research in B.C."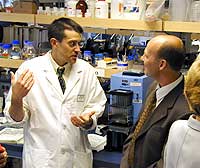 "Research like the work being done at the Genome Sequence Centre leads to new and better treatments and, eventually, cures for cancer and other diseases," said BC Cancer Foundation president Mary McNeil. "It's what gives us hope."
B.C.'s biotechnology community has a worldwide reputation for leading-edge research and discoveries in treating cancer, AIDS and other genetic diseases like Huntington's disease. There are more than 80 biotech companies in B.C., nearly 70 per cent of which are involved in medical and pharmaceutical research.
For information about the Information, Science and Technology Agency, B.C.'s biotechnology community, and the B.C. high-tech sector, visit ISTA's Web site at www.ista.gov.bc.ca on the Internet.
Page last modified

Aug 15, 2006